We spread our activities across two broad headings as below.
Food and Sustainability

Environment
I. FOOD AND SUSTAINABILITY
FARMER TRAININGS 
Farming has become commercially unviable to many farmers in India, as our pattern of agriculture changed in the recent few decades. Earlier we used to live as joint families mostly in the farm or near by the farm and we had livestock attached to the farm. We had produced for our own consumption, for the cattle, for the farm labours and the rest went to the nearby local markets. Our own family members used to work in the farm, we had our own seeds saved from the previous crop, we had cows to plough the land, we had a sense of water resource management and we never had borewells, and we never depend on anything from outside to run the farm. 
Things changed! Cows had gone for slaughter houses from 1900s. We could not produce farm manures which we had produced earlier from cow dung and urine. We had to depend on tractors to plough the land. Farmers had to buy and rent tractors, machineries, manures and fertilizers. Because of the rise in expenses, farming became unviable to continue. Farmers requested their sons and daughters to get into other industries to survive. Then labours for the farm work from own family also extinguished. Farmers had started hiring labours for all the work. Farming becomes unsustainable and farmers got into debts. Now, what should be done to put back everything on its old routine? That's the area we train farmers on, such as:
Organic and integrated farming

Water resource management

Value addition of farm produce

Fair price and Market connection

Farming and rural based livelihoods

Advantages of creating Farmer groups

Organic Group certification
PWD – IAMWARM – Integrated Farming Workshops
IAMWARM expands to Irrigated Agriculture modernization and Water bodies' restoration management. It's a Multi-disciplinary project funded by World Bank and implemented by the water resources organization (WRO), PWD and Govt. of Tamilnadu as Nodal Agency.
SEA Movement had participated in TN-IAMWARM projects by implementing farmer trainings in Tiruvannamalai and Kanchipuram districts. 'Demonstration of Sustainable agriculture practices' is the Training title.
SUSTAINABLE AGRICULTURE
Sustainable agriculture farm should have its focus on Water. This work comes under adaptation to the effects of climate change. 
'Water will be the next oil.'
The indisputable realization comes from the fact that large swathes of the world are already struggling with water scarcity. More than the cities, it's the rural side which experiences more water woes as water in rural is linked directly to agriculture which is connected to the quantum of food crops production and ultimately to the world's economy. The solution of rain water harvesting has existed for centuries but perhaps the attitude is just about seeping in the face of acute water shortages.
 Elements should be considered in the agricultural farm are:
Rainwater harvesting in the farm 

Water conservation methods 

Efficient use of water in Agriculture

Lessening water needs by use of Organic farming techniques

To avoid bore wells and depletion of ground water

Farm should be ready to face drought as well as flooding
We tried our hands in developing a model farm is in Virudhunagar district of Tamilnadu. This village receives a scarce rainfall on an average for the last 10 years.  It is about 7 acres coconut farm where the water conservation related works being done for 2 acres now. A small well supports the irrigation here.
ORGANIC FARMING PRACTICES
Organic farming is not new to Indian farming community.  Several forms of organic farming are being successfully practiced in diverse climate, particularly in rain fed, tribal and hill areas of the country.  Much of the forest produce of economic importance like herbs, medicinal plants, etc., by default come under this category.  Among all farming systems, organic farming is gaining wide attention among farmers, entrepreneurs, policy makers and agricultural scientists for varied reasons such as it minimizes the dependence on chemical inputs (fertilizers; pesticides; herbicides and other agro-chemicals) thus safeguards/improves quality of resources and environment, it is labour intensive and provides an opportunity to increase rural employment and achieve long term improvements in the quality of resource base.
Organic agriculture may be defined as a kind of diversified agriculture wherein crops and livestock are managed through use of integrated technologies with preference to depend on resources available either at farm or locally.  It emphasizes more on optimising the yield potential of crops and livestock under given set of farming conditions rather than maximization.
The most often debated issues on organic agriculture are:
Can organic farming produce enough food for everybody? 

Is it possible to meet the nutrient requirements of crops entirely from organic inputs? 

Are there any significant environmental benefits of organic farming? 

Is the food produced by organic farming superior in quality? 

Is organic agriculture economically feasible? 

Is it possible to manage pests and diseases in organic farming?
Answers have been YES for all the above questions. 
The Hindu News on S.R.I's success in Trichy District, Tamilnadu. 
http://www.thehindu.com/2009/09/07/stories/2009090757230100.htm
TRADITIONAL SEED CONSERVATION
There are two aspects to seed preservation, the biological or cultural, which prevents loss of diversity, and the economic, which benefits the poor farmer. Local seeds are of more value to farmers because they are better adapted to local conditions and are more pest-resistant. The seeds from the Green Revolution wiped out this diversity for short-term gains. Mono-cropping practices that followed the revolution also made these crops more vulnerable to pests, as they gradually grew more resistant to pesticides.
Indigenous seeds are very few in number, though there is a variety. If someone wants to cultivate an indigenous variety on a large scale, the seeds have to be multiplied in large numbers through cultivation. 
We collect traditional seeds from various farms and spread those among organic farmers and multiply them. We also promote food produced using traditional seeds among conscious consumers.
CATTLE AND RURAL LIVELIHOOD
Cattle is the center point when it comes to Organic farming. Cattle are the main source for Bio-inputs to the crops under cultivation. Usage of Bio inputs produced from cattle waste drastically improves soil fertility. From carrying carts to ploughing the soil, we see cattle as a member of the family. Conservation of Traditional cattle gives us a lot of advantage in farming. 
We encourage farmers to nurture native breed cattle and make new choice of livelihood generation thereby ensuring a complete cycle of soil health to human health. 
CLIMATE RESILIENT PADDY CULTIVATION
India had 3 lakhs paddy varieties in the past and now we have hardly 6000 varieties left. Such diversity we had, one for withstanding drought, one for withstanding flood, one for each soil type and one for different seasons. We had also nurtured paddy for its medicinal qualities.
The short term high yielding new paddy varieties have lot of difficulties in growth. Unlike the traditional ones, they need more fertilisers, pesticides and fungicides.
It's very important to revive our traditional paddy varieties to boost the sustainable agriculture practices in India. And as Rice is the most significant staple in South India, this work takes center stage as human health is attached to it. 
We help paddy farmers to get pure native seeds and give trainings to farmers who are new to organic cultivation or traditional variety paddy cultivation. We also extend market support to the traditional variety rice produced.  
In the year 2021, Tamilnadu had received extended rainfall till Feb 5. Paddy under cultivation in parts of Tiruvallur and Cuddalore districts got heavily affected due to the excess rain. At the same time, dry areas like Dindigul had taken up paddy cultivation after ten years due to water availability because of the same rain. Keeping this challenges and opportunities in mind, we should work with utmost caution to adapt the effects of climate change.
DAILY REVENUE CROPS
Agriculture looks interesting when we see it as an additional activity. One may be in a job or doing a profitable business or enjoying pension, then farming is attractive and viable for them. If Farming is the only livelihood, the scenario is different.
The farmer is in a position to manage the farm, cattle and his own family. He/She needs funds to manage the everyday situation. In such case, daily revenue is very crucial to the farmer. Most of the farmers see milk production as a daily revenue choice. We suggest greens, vegetables and flowers cultivation as daily revenue choices to the farmers.
Also we encourage farmers to cultivate in small patches and see to that there is some considerable yield in the farm throughout the year. If the farmer has 2 acres land, we ask them to divide that into four portions say 50 cents each, and do cyclic cropping in all the four portions of land, thereby ensuring revenue during any part of the year.
INTERCROPS AND MIXED CROPPING
Intercropping is the growing of two or more crops together in proximity on the same land. As a result, two or more crops are managed at the same time. This method helps farmers to grow variety of food together in the same patch of land yielding at different time intervals. This method is followed to increase the productivity of crops.
With minimum water availability, if farmer plans to grow pulses, oil seeds and grains for his family's yearly needs, then mixed cropping is a best way. This method is followed to reduce the risk of crop failures due to unfavourable climatic conditions. This method is largely adopted by rain-fed farmers. 
We promote mixed cropping to farms which have less water and intercropping for farms with enough water for cultivation.
UNCULTIVATED GREENS AND HERBS
UCGs are freely available to all the local community members and are rich source of vitamins and minerals and play pivotal role in meeting the micronutrient requirements of the rural families. The three aspects that underlie most conceptualizations of food and nutrition insecurity are 1) Availability – the physical availability of food stocks in desired quantities, 2) Access – determined by the bundle of entitlements, especially in terms of physical and economic access to food, and 3) Absorption – defined as the ability to biologically utilise the food consumed. 
UCGs are rich sources of iron and vitamin C and both have a vital role in red blood formation. They are also rich in calcium and phosphorus, other important twin micronutrients that helps in bone and teeth formation and also for many other important biological functions in the body. These UCGs offer fibre in plenty which is missing in modern diet. Fibre is a very important element for preventing constipation and certain types of cancers. Uncultivated greens as part of the local food systems are available in plenty and accessible relatively free of cost to all the members of the community, including the landless. It was reported by women that whenever they need they just walk to the nearby field and hand pick their choice of UCGs and cook the recipe they want.
Similarly when there is a need for a medicine, rural community have relied on locally available herbs to heal them. The traditional knowledge which they carry from previous generation will be usually passed on to the next generation. Because of vast migration to urban areas due to globalisation, the knowledge chain is slowly missing. 
Mr.Mohanasundaram is a conservationist working in Trichy district. Pictures given here are from his farm and plant nursery. 
ORGANIC PRODUCE - VALUE ADDITION & MARKET LINKAGES
Value Addition
Value addition of organic produce is inevitable to reach markets at a fair price. In this express world, consumers look out for ready to cook, ready to eat, semi-cooked items both online and in the retail shops. Though the farmers organically produce safe and nutritive food, it has to be in a form that consumers like to consume.
Say from millets, we can produce the below ready to cook items.
Millet rawa
Millet dosa mix
Millet porridge mix
Millet pongal mix
And when there is surplus produce in the farm, we cannot sell everything as raw.  For example, if we have large amount of coconut, we can sell it in many different forms such as,
Tender coconut
Cold pressed Coconut oil
Virgin Coconut oil
Dried coconut
Powdered coconut shell
Coconut sugar
Dried grated coconut
Coconut husk
We guide farmers to do value addition so that they get better price for their produce. And market also responds well if the producer has got more variety of products to offer. 
Market Linkages
In India, we produce the staples rice and wheat more than demand. If something is produced more than demand, how will it get a fair price in the market? Without having a fair price to a produce, how can one continuously produce it and take cultivation as a livelihood. This is the scenario and our approach goes as below.
Few decades ago, we were practicing multi-crops and proper crop rotation in our farms. Nothing was produced focusing the market. We produced for our food requirement, our own usage, for farm workers, to feed the cattle and the rest went to the market. Now if we want to sell all the produce to the market, where does the market exists?
Local production and local consumption concept has gone. We stopped producing for our own consumption and started producing crops which we can sell for cash. We had never calculated the returns in agriculture like how we do now. The returns from Agriculture in the past were enough food for the family, healthy long life, living closer to nature, minimum revenue to look after the farm and family needs. The returns now we expect from farming is only money! With money we think we can buy everything to run a better life which is actually not true.
With this background how we can build market options for farm produce has to be analyzed. At present we encourage farmers to move towards toxic free farming and it can be the reason for them to claim fair price for their produce. As health awareness is picking up in India, organic produce is receiving fair price in most of the urban areas and in communities with better awareness.
We also encourage farmers to develop a local market including their own friends, relatives and neighbours. Say there are 10 farmers in a farmers group, each one of them would have ten contacts and the market size is 10 farmers x 10 contacts = 100 customers. This market can be utilized by all the 10 farmers if they have different produce all through the year. 
LOW COST TECHNOLOGIES
Indian agriculture is dominated by small and marginal farmers, accounting for over 86% of the total farmers. Small and marginal farmers own just 47.3% of crop area with low outputs and paltry incomes. The average monthly income per agricultural household was estimated to be Rs 6,426 in 2014. With this information, how should we think about including technologies in farming? 
Farmers usually manage any given situation with what is available locally for free or less cost.  They prefer physical work rather than investing on technologies. Farm level innovations are made by farmers and the new knowledge is shared mostly for free. 
FIELD VISITS
To cope with climate variability and drought it is important to adapt by using improved varieties and appropriate crop management practices. Farmers can discover that during field visits to other farmer's field. Successful methods can be learnt through field visits. 
Problem solving skills and creativity will improve by seeing other farmer's effort in their fields. 
TREE PLANTATION
Trees are our saviours! We plant and nurture trees in schools, burial grounds, urban open spaces, connecting roads in rural areas, temples and possible enclosed spaces. We make students to participate in planting and nurturing Trees in their neighbourhood.
To absorb the carbon emissions we humans make, Growing Trees are the best proven way available as we don't have any other technology so far. 
WASTE MANAGEMENT
Instead of accumulating tons and tons of waste from all the producers and dump it in the outskirts, we should think of handling the waste at the source level.  Home composting is the best solution available today! Handling 500gms waste is very easy when compared to 500gms x 1 lakh households. 
Composting is the natural process of recycling organic matter, such as leaves and food scraps, into a valuable fertilizer that can enrich soil and plants. Anything that grows decomposes eventually; composting simply speeds up the process by providing an ideal environment for bacteria, fungi, and other decomposing organisms (such as worms, sow bugs, and nematodes) to do their work. The resulting decomposed matter, which often ends up looking like fertile garden soil, is called compost. Fondly referred to by farmers as "black gold," compost is rich in nutrients and can be used for gardening, horticulture, and agriculture.
Managing E-waste is another important problem which is increasing day by day. We encourage consumers to act sensibly on handling any kind of waste as handling at source is the only cheapest and efficient way available. 
RAINWATER HARVESTING
WATER IS LIFE!
In India, Groundwater provides 80% of India's drinking water and nearly two-thirds of irrigation needs. While rainfall is considered to be one of the primary sources of fresh water, it is not conserved in an appropriate manner, leading to scarcity of water across the country. Studies show that the water situation could be different if rainwater is harvested in an appropriate way.
The increasing decline in the level of groundwater, in many parts of the country, is leading to a lot of unsustainability. It has been observed that in some parts of the country the water levels are declining by over one meter each year. Additionally, lack of proper wastewater treatment from industrial, mining, and domestic sources is resulting in increased contamination of groundwater, leading to potential threats to humans as well as the ecosystems.
Irrespective of the proximity to a water body, there are states that still face water shortage. An evident example of this is Uttar Pradesh. Despite its close proximity to the Ganges, the state still faces water shortage due to lack of water conservation methods.
Because of Climate change, we will have sudden down pours and flooding very often. We have to clear the water channels and pathways so that rain water reaches Ponds and other existing water-bodies. We motivate individual houses, apartments and agricultural farms to have rainwater harvesting system in place. We support them in implementation too. 
KITCHEN GARDEN
Compost made out of household waste can be used in nurturing a kitchen garden at home. Below are the few advantages of having one:
We get to eat more homegrown seasonal vegetables and herbs that are free from harmful pesticides.
There's better control over what goes in our meal when we are growing it ourself, making it a healthier option.
Kitchen gardening is a very healthy way to involve the whole family in a physical activity.
It also helps clean up a lot of air around your home and create a better environment to live in.
We encourage families to start kitchen gardening in their homes and extend technical support too.
INVOLVE STUDENTS
Young generation should participate in designing solutions to the core issues.
We join hands with the Social sector attachment program of IIT Delhi where students get a chance to understand the real world problems. The Topics we had given to the students and the research reports could be found in the below links:
Farm equipment and technologies innovation meet at NIT, Trichy was another event where engineering students had come up with many prototypes of their ideas.
DISASTER RELIEF WORK
Natural disasters are unavoidable and wreak havoc in the lives of common folk. Disasters such as cyclones have the power to displace millions of population within the same geographical region. While material needs can be immediately addressed by the government and volunteers, loss of livelihood and homes takes some time. During this time, the displaced population has to live their lives as refugees in their own neighborhood. 
In Tamil Nadu such a situation developed in the month of November 2018, when Cyclone Gaja struck the districts in the Cauvery Delta region. It resulted in the loss of lives, property, livelihood, and homes for millions of people. Government is actively working in the field to remedy the situation for the affected. We, at SEA Movement participated in the relief work to the cyclone affected community in Nagapattinam and Tiruvarur districts of Tamilnadu.
COVID work
'Preventive Healthcare Kit' distribution to Corona Frontline workers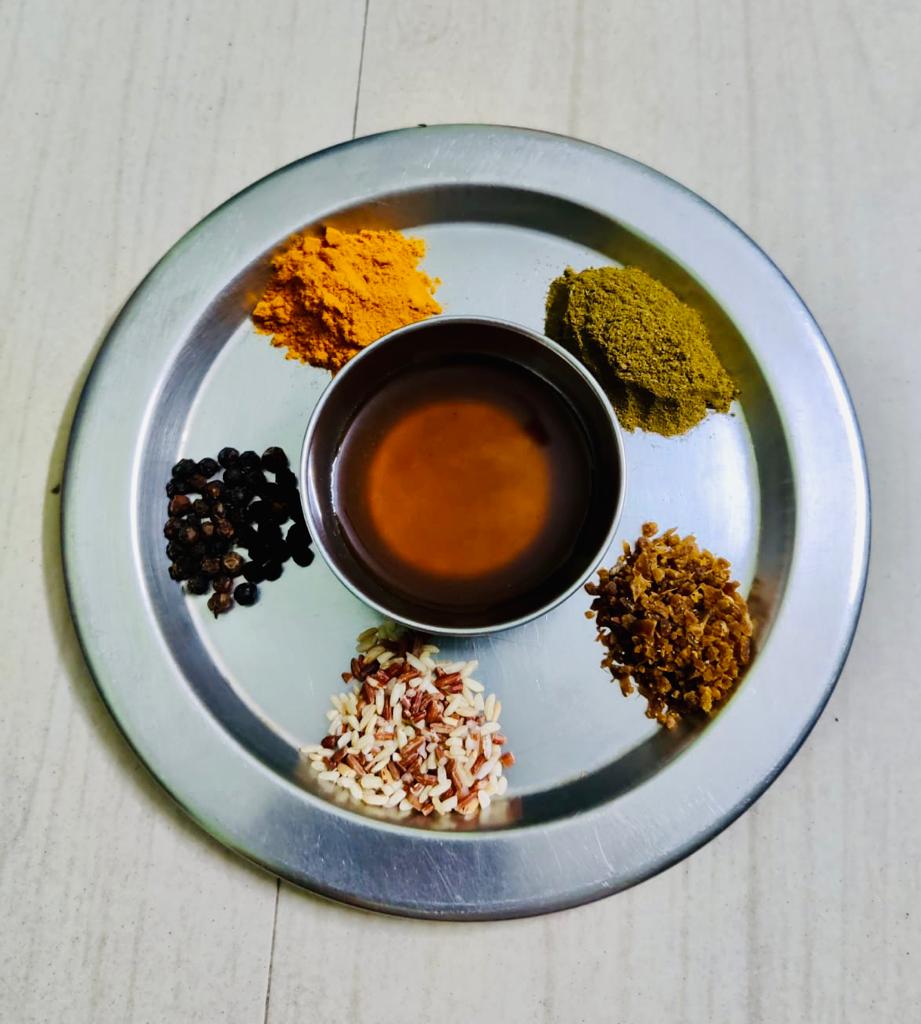 After knowing the number of frontline workers who got deceased in this pandemic, we have come up with an idea of Healthcare kit distribution to volunteers, police personnel, health workers and corporation staff.
​​​​Preventive Healthcare kit includes Organic Moringa leaf powder, Organic Turmeric powder, Traditional rice or millet, Organic Dry Amla, Organic Pepper and Hill Honey. A small information booklet will also be attached in the kit.
The health kit is designed after discussing with nutritionists and wellness consultants. The items mentioned in the health kit are produced organically by organic farmers and farmer groups across Tamilnadu. We would like to distribute the health kits for three reasons:
To express our gratitude to the frontline workers during this pandemic.

To create awareness on consumption of safe food and food as medicine concept.

To facilitate sales of organic farmers' produce who are finding difficult to reach markets in this pandemic.
If there is any provision in your office CSR to support this idea, kindly let us know. We are initially planning to distribute 1000 kits in Chennai.
Requesting all to join hands in this initiative and let us reach maximum frontline workers possible.
To gift these health kits, please visit http://seamovement.org/donate/ or contact Mr.Radhakrishnan @ +91 97898 40630.
Recreating Livelihood choices for the people who lost their jobs in this pandemic period
Through our 'PlanetBlue' forum, we guide individuals to take up the opportunities in the Social enterprises, either in the form of jobs or small enterprises.
From organic retail to e-waste management, there are lot of choices available in the Sustainable development arena.
With the help of experts, proper training is given on the selected entity and handholding is also done for few months.
For more details, please visit www.planetblue.org.in